Introducing the 2019 summer and autumn walking shoe collection from Hartjes Austria. These ladies walking shoes are extremely comfortable as they have all leather uppers and a cushioned cork inner sole. One feature of Hartjes shoes is the shape of the last they use which provides more room in the forefoot of the shoe while being narrower at the heel.
In 1953 the company was founded by Heinrich Hartjes as an orthopedic workshop. This basic understanding of the human foot and its special requirements is the foundation of the success story of our shoes. Comfort and health are the focus. Together with attractive design, Hartjes has become the most important shoe manufacturer in Austria. The factory has grown continuously and, in 2005, the daughter company, Mucos, was founded specializing in the production of our unique footbeds. Today, 140 employees work in Pramet in Austria.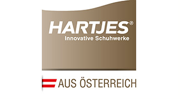 Note: The shipment from Hartjes is limited and future supply will depend on current sales and feedback.