Who We Are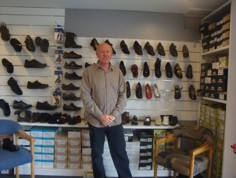 Over ten years ago we started out in the back room of a Podiatry Clinic fitting shoes for people with difficult feet.  Coming from a marketing and technical background, I was very interested in how feet differ from customer to customer and all the different problems people have finding shoes that work for them.  A lot of our early work was organising the manufacturing of custom made foot wear.  It quickly taught me a great deal about different foot shapes and medical conditions affecting the foot and general wellness of the customer.  We soon moved into a retail shop environment focusing on fitting good quality shoes for all day wear.
Over the years we have developed relationships with different shoe manufacturers in Europe who have had a long history of making shoes and who are known for their design, quality of workmanship and materials and excellent understanding of the foot.  Wearing good footwear will pay big dividends in later life as our feet will carry us nearly 4 ½ times around the world in our lifetime.
When you purchase a pair of shoes from us for the 1st time, I am sure you will experience the difference not only in styling but also the quality of the footwear.