Modern Support and Travel Stockings
Ideal in the prevention of swollen legs resulting from long periods spent standing or sitting.  Knee stockings with cotton as the all rounder for all seasons.  Additionally available as Light Edition with breathable microfibers for the summer and as Aloe vera edition-skin care included.  With help of Nanotechnology the Aloe vera extracts are dispensed to the skin in the controlled manner.  Outlasting more than 100 washings.
The benefits of Aloe Vera:
·         A combination of ingredients integrated into the yarn
·         Moisturising effect through Aloe Vera  extracts
·         Protects ,smoothes  and cares for the skin
·         Easier to put on
Please Note : Risk and side Effects
Unsuitable compression stockings can cause skin necrosis damage due to excessive pressure on the peripheral nervous system and thrombosis of the leg veins.  Check with your Health Professional  if you have any concerns and whether these products are suitable for you.
Made in Germany by Ofa Bamberg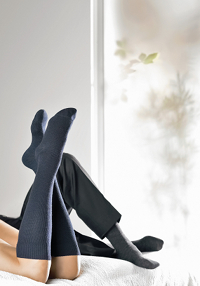 Modern Support and Travel Stockings